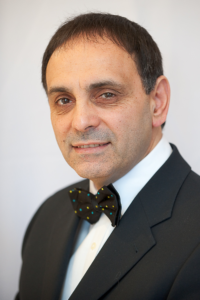 I qualified from the University of Liverpool with the degrees of MB ChB (Honours), distinction in surgery and winning the Sir Robert Kelly Gold Medal. My initial postgraduate training in Liverpool included a variety of junior hospital posts, gaining experience in general medicine, general surgery, A&E, and psychiatry, passing the MRCP exam in London. I then trained in diabetes and endocrinology at St. Bartholomew's Hospital, London, where I conducted research into the causes of diabetic complications under Professor Andrew Cudworth. This research formed my doctoral thesis submitted for the award of an MD degree by Liverpool University. Subsequently, I underwent further training and researched in general medicine, diabetes and endocrinology in Leeds.
In 1989, I attained the post of consultant physician, specializing in general internal medicine and diabetes at the Leeds General Infirmary. My initial task was to fund raise and open the Leeds Diabetes Centre at the General Infirmary. The diabetes centre and wards moved in 2010 to St James's University Hospital, Leeds. In 1995, I was elected an FRCP (London). The university appointed me as an Honorary Clinical Associate Professor in 2013. This involves teaching and lecturing to medical students and postgraduate doctors, locally, nationally and internationally. I have been a member of the Council of the EASD, the European Association for the Study of Diabetes and also a member of the EASD panel that oversees European guidelines and statements on diabetes, 'POGS'.
Many overseas doctors visit and work on our unit to gain further specialist experience.
Membership of learned societies
Diabetes UK
European Association for the Study of Diabetes
British Society for Sexual Medicine
European Society for Sexual Medicine
Fellow, Royal Society of Medicine
Appointments
Patients from the UK should arrange a referral letter from their GP. Patients from outside the UK should bring a referral letter with them if possible. All patients should bring a list of their current medication and the results of any recent tests.
Private consultations are held at the Spire Hospital, Jackson Avenue, Leeds, LS8 1NT.
Telephone 0113 269 3939 and ask for outpatient appointments. See also the link to the Spire Hospital Leeds.